[ABTM id=588]
The spread of the coronavirus (COVID-19) continues to spread across the world.  Since many of you are in some level of self-quarantine you may find yourself going online to research information.  That's great. It can help you pass the time but also a good opportunity to gain some extra knowledge along the way.  I made a post last week making some of my initial predictions and observations.
Everyone is looking for answers and solutions.  As it pertains to COVID-19 we are getting more knowledge but there are still a lot of unknowns.  First and foremost make sure that you are utilizing your national, state and local resources for up to date information.  If you are in the United States utilize the CDC site for up to date information.
Your state and local department of health is a great resource as well. Additionally, another helpful source of information is Johns Hopkins University of Medicine (COVID-19)  This site was set up specifically to share information in regards to the virus as well as updated maps.
View The John Hopkins Real Time COVID-19 Interactive Map
Now this also leaves many people searching for information about the virus that may not necessarily be mainstream yet.  It could be cures, or treatments or others that can get rid of the virus. You may feel some frustration that things may not be always properly reported.  I empathize with you, however the internet can be the wild west too.
Some of you may be searching to see if CBD oil (cannabidiol) has some qualities that may be helpful in regards to the virus.  Hold your horses. I will share some helpful things with you considering some topics of immunity (immune system support) CBD and other things you may not know.
Does CBD Have A Role In Defeating The Virus?
At the time of my original posting (March 2020) there have been no silver bullets fully identified to eliminate, treat or cure the virus.  Here I am saying fully identified. As far as CBD is concerned it wasn't really a part of the equation. I could find nothing that could support any concepts on how CBD could specifically affect anything related to COVID-19.  
It didn't mean there were possibilities.  It definitely seemed illogical to even think that someone would have had some evidence during that short period of time.  People were still trying to figure things out.
Interesting enough we have had a few months for things to unfold. Now (May 2020)  scientists in Canada have found evidence of how CBD can affect the pathways that the virus uses to access the body.    One of the researchers suggested that it could reduce the virus entry points by up to 70%.
You can read the entire report on the study here.  Additionally, The New York Post covered the story as well as Calgary TV out of Canada.
Its relatively new and there will be more research to be done but it definitely should draw some interest.
I mentioned in my first COVID-19 observation post that I would expect to see some sort of treatment come up in the near future.
I also said that I would expect something  to possibly come from a medication or supplements that may already be in existence.  Now there is some information coming from across the world (and within the US) of repurposing current medications that can help treat the virus.  
The medication (hydroxychloroquine) is an anti-malaria drug and was being used in conjunction with other medications such as azithromycin.  The only caution is that it hasn't been fully studied in a greater controlled environment (its being done as we speak). There will be some additional treatments become available I am certain, and some which may be hiding in plain sight.
I personally believe there is a lot of promise with some of these existing drug treatments.  I dislike how many media outlets have blown it off with catchy headlines and saying it gives false hope, or unsupported.  That is totally out of context and can deprive the public out of important information.
---
Update July 2020:  As it relates to hydroxychloroquine, there have been some updates in recent months.  A larger scale analysis has been able to show that use of hydroxychloroquine was able to cut down deaths rates significantly from those infected with COVID-19.
---
I chose to say "fully identified" since the studies being currently conducted now are testing everything specifically for the treatment of the virus (utilizing these medications specifically).  This will give specific data on how the medications affect the virus with specific empirical data and patient specific information. I want to be fair and objective but yet anxiously await that data that comes from this.
For what it's worth there are many others who have been prescribed the medications from their doctors that have claimed that it helped them defeat the virus.  This south Florida man claimed it saved him.  
Additionally, other antiviral drugs such as Remdesivir as getting some consideration to be able to treat COVID-19.  I mentioned there could be some things hiding in plain site that can help.  Ironically enough there has been a correlation with deficiency with Vitamin D and level of sickness from COVID-19.
There are many people that may be deficient with Vitamin D and not aware of it.  There are a lot of benefits so its essential to include it with a healthy diet or with supplements.  Speak with your doctor.  You can get a micronutrient test performed rather easily to see if you are deficient.
As with CBD, always get high quality products and search for organic.  Its very important.  Here is why.  You can also purchase USDA Certified Organic CBD Products.
Well Does CBD Offer Some Sort Of Help For Your Immune System?
I think this is a better question to ask in these times (beyond just a single virus).  Supporting your immune system is critical and smart. This isn't just for the current COVID-19 pandemic but in general.  If you support your immunity through better health and wellness you will be able to increase your chances of fighting off any those nasty pathogens.
CBD does support your endocannabinoid system.  Your endocannabinoid system supports a variety of different body functions such as mood, appetite, and even immune response.  This peer reviewed study from 2009  "Endocannabinoid and Immune Regulation" details how endocannabinoids function within the body in regards to immune response.  This gives you the big picture.
When you use CBD it simply integrates with the endocannabinoid where there are deficiencies and restores it to a proper balance.  You may find it fascinating to know that there is a theory that is now gaining significant clinical data to support its claim.  
It's called Clinical Endocannabinoid Deficiency Syndrome.  Deficiencies within your Endocannabinoid System could lead to a variety of difficult to treat syndromes such as Fibromyalgia, Migraine and Irritable Bowel Syndrome.
You can read that entire study here.
Looking for some immune boosters that have been shown to have antiviral and antimicrobial characteristics?  I will share one that we have used in our household. Truth be told I learned about it from one of my sons Doctors a few years ago.
Elderberry syrup or extracts have been shown to have very effective properties.  My son's doctor read off some research and told us how effective it was against a variety of illnesses including influenza.  She mentioned that it was something very effective to boost immunity, shown to be effective against certain illnesses and very palatable (it tastes good).
---
Green Compass Recently Released "Boost Immunity".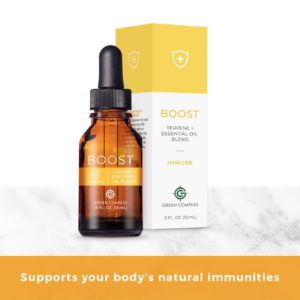 A product designed to use in conjunction with your CBD and contains a proprietary immunity boost formula.
 Now Available Monday 4/27!  - View Now!
---
I can cite numerous sources but here is a simple easy to read peer reviewed publication that gives you details of the effectiveness of elderberry extracts against pathogens including influenza.
Some people can get thrown off by the taste of certain things.  I know everyone's palate is a little different but it was pretty good.  We used it in a syrup. The product manufacturer may add other things to give it a certain taste but the main ingredient will be from the elderberry.  Sambucus is the technical name for the elderberry.  
Read More:  These Common Household Items Are Effective Disinfectants. < = =
Closing Thoughts
While you search for information during the current outbreak of COVID-19 be mindful of what you read and where you read it.  Keep an open mind of course. As it relates to CBD or any other topic I will not misrepresent anything that I document on this site.
If you are trying to identify its purpose in the grand scale of your immunity it has a role integrating with your endocannabinoid system.  Your endocannabinoid system has a role in your immune response. You can read related posts containing the benefits of CBD oil here.
For a more specific antiviral immunity boost you might need to give elderberry syrup (extract) a look.  It has been shown to be effective against the flu (see source reference in earlier paragraph).  
Stay empowered and informed.