Green Compass Introduces CBDA
Green Compass recently launched CBDA Isolate into their product line.  This non-psychoactive 500mg Isolate is THC Free, and processed with CO2 extraction.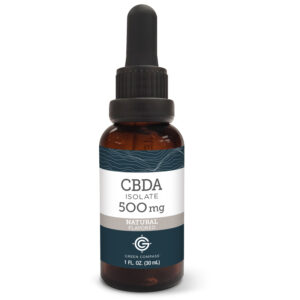 Its benefits include:
Provides protection against environmental stressors*

Helps to soothe and ease discomfort associated with

nausea*
Supports recovery from exercise-induced pain*

Assists in the relief from daily stresses *

Helps in maintaining a sense of calm and focus *

Support for a healthy sleep cycle *

Assists the body in achieving overall homeostasis *
*Always consult your physician before using any CBD products.
*All Green Compass products, including Broad Spectrum and Boost, could contain very trace amounts of THC that are below detectable levels by our third party lab tests. Products are tested by using liquid chromatography, detecting THC levels over 100 PPM. If you are subject to drug testing then you may want to consult with the testing facility and your employer before using these products. Green Compass cannot guarantee the outcome of customer drug tests.
*These products are not approved by the FDA, and not intended to diagnose, treat, mitigate, cure or prevent any disease.
What Is CBDA?
CBDA (Cannabidiolic acid) is cannabinoid found in the cannabis sativa plant.  It is the acidic form of CBD (cannabidiol).  This basically means that it is the precursor to CBD.  CBDA is a compound that is not thoroughly researched.  However, this research article covers some of the interesting data behind this overlooked bioactive compound.
Some of the highlights in the research (link above) includes CBDA's anti-inflammatory, antiemetic, anticonvulsant and anti-cancerogenic characteristics.
The Relationship With CBD
As stated prior, CBDA is a precursor to CBD.  It goes through slightly less refinement.  That is simple enough, right? 🙂
Bottom Line
The research and data around CBD continue to evolve.  Its popularity in the market and with consumer does not seem to be letting up and will continue to grow over time.  While in the past there has been limited research and just anecdotal evidence, it now has become more readily available.  In contrast as we get more information we begin to unlock more details and more questions and excitement arise.
As it relates to CBDA this is no different.  It just seems that we are just scrapping the surface of the possibilities of the hemp plant.  What does the future hold?  We don't know, but I am excited to find out.
An important note.  Not all CBD products are created equal.  To avoid any potential toxins and outside contaminants getting into your CBD products it is important to choose products from reputable manufacturers that use domestically organically farmed hemp.  Here is why that is important.  
Disclosure:  I have no affiliation with the products or the company of Green Compass.
Thanks for reading!  Stay empowered and informed!