[ABTM id=588]
The market has expressed an increased interest in CBD oil.  As a result of the demand there have been many CBD products and companies that have entered the marketplace.  The only problem is that not every product or company creates the same level of quality.
There are reputable manufacturers and there are some that are lacking on the level of quality.  It's essential that you choose a high quality CBD product from a reputable manufacturer. Failure  may lead to some potential dangers lurking in your CBD product.
Additionally, it's also essential that manufacturers utilize independent 3rd party lab testing on their CBD products.
What Is Independent 3rd Party Lab Testing?
The CBD industry is still mostly unregulated.  There are rules and compliance standards that are supposed to be followed.  However, not every product or producer may follow all these regulations. So it is still kind of the wild wild west as it relates to CBD.
That shouldn't deter you from exploring CBD.  There are some quality manufacturers of CBD products but of course some others that fall short.  One of the ways to be an informed consumer of CBD oil products is to find quality manufacturers that also utilize Independent 3rd Party Lab Testing.
This lab test is where CBD products are tested at a independent lab to verify the content on the product label.  This helps to verify that you are getting the product that you have purchased at the levels that are stated on the label.
A product may state that it contains a certain level of CBD oil, but does it really?  It may state that it contains other cannabinoids as well (typical of a Full Spectrum CBD Oil product).  Sometimes products can labeled as being something that it isn't.
Are you really getting what you are paying for?
Why Is Independent Lab Testing So Important For CBD Products?
An independent lab will conduct an unbiased test to verify the product contents. For example since CBD oil is the signature ingredient on the product this will test to verify that it is in the product as well as the quantity.
If you are purchasing a CBD oil product with a defined level you would want to verify that the manufacturer is producing a product that contains the correct level stated on its label.  A reputable company will utilize lab testing to verify content of products and have reports available for customers.  
Here are a few other reasons and scenarios where lab testing is very important.
Verify CBD Concentration Levels:  You can purchase different concentration levels of CBD oil, however does that product you are purchasing contain the correct levels?  Are you wanting to purchase a higher level of CBD but actually buying a lower level (then specified on the product label)? On the other side it could cause problems calculating correct dosage if you are actually taking a CBD product at a higher level then you have purchased.
Verify Presence of Other Cannabinoids:  Full Spectrum products not only contain CBD but will also have small levels of other cannabinoids (also very small levels of THC at 0.3% or less)  present as well. Full Spectrum products are popular since the small presence of other cannabinoids help to synergize how CBD oil works within the body.  The lab report will give details of other cannabinoids that are present. You may also be seeking to purchase a product that is THC Free (see next example)
Verify No THC Is Present In A THC Free (CBD Isolate) Product:  Some consumers may wish to only buy a product that is THC Free.  These products will be labeled as THC Free or CBD Isolate. This simply means that the CBD oil has been isolated from other cannabinoids and no THC will be present.  Customers who may want a THC free product may just not want THC in the product. They may also be potentially concerned about THC showing up in a drug test if they have strict employer drug testing.  If so you would want a lab test to verify that the product is THC Free as stated on the label.
An Example of An Independent Lab Test Report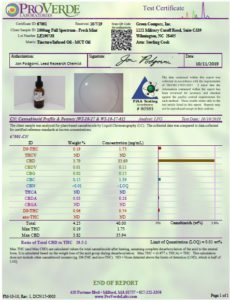 Above is a sample of an independent lab report on a product.
The report defines the concentration levels of not only CBD but other cannabinoids that are present.
Final Thoughts
If you are seeking to purchase CBD oil (or currently purchasing), be wise and always seek quality products from reputable companies.  Reputable companies will also utilize Independent Lab Tests to verify levels of cannabinoids and concentration levels that are listed on the product label.
This can help create confidence that you are receiving what you are paying for.  There are some products and companies that take advantage of the naive consumer with deceptive labeling and marketing.  But there are some good ones as well. By the way "Here Are 5 Reasons That You Should Not Buy CBD Oil On Amazon".
Be informed and empowered as a consumer.  Got questions? Leave a comment or contact me.