[ABTM id=588]
There seems to be no shortage of CBD related products and companies getting into the market these days.  Lets face it, interest in CBD has skyrocketed. Its with good reason since there are countless people who are really finding it helpful.
There are so many companies in the market it can be difficult to navigate.  Key thing to remember is that not all CBD is created equal. You will find some that really create quality products and it really does start with the source of raw materials (i.e Hemp).
You find others that skip those steps and create cheaper products that lack the quality.  They come from materials outside of the United States that use questionable practices.  These could lead to potential toxins in your CBD. 
However, today I am going to review and discuss Green Compass (Green Compass Global) and some of their products.  Is there anything that makes them different? What about the quality of their CBD products? Should you consider purchasing a Green Compass CBD Product?
The Quick Background On Green Compass Global
Green Compass is a CBD company that is based out of Southeastern North Carolina (United States).  The company is founded by Sterling and Meredith Cook. This really interesting aspect about Green Compass is that the founders are farmers.
Yup, you heard that right.  I said farmers. This is where things really get neat and become a breath of fresh air.  The goal of the company was to be able to create the highest quality CBD and control the process completely from their family farms to the final product.
Read More:  Green Compass Sets New Standards In CBD
That is absolutely fascinating.  The Green Compass farmers have over 6 generations of farming experience and grow and cultivate their proprietary hemp on their farms and integrate it completely to the final seal on the product.  This allows them to have greater control of the CBD and product quality.
Other companies mainly purchased it from outside farms.  Now to be clear there is nothing wrong with that.  However, the problem can be that some may bring in cheaper hemp from overseas countries that use questionable farming practices.  Its very important to know the source of hemp otherwise you can risk potential toxins making its way back into your CBD product.
Green Compass simply controls this entire process from the beginning with the soil on their farms. The Hemp is grown organically on their farm and is USDA Organically Certified.  The source of hemp is absolutely essential to the quality of the CBD and final product.
= >  Meet The Green Compass Farmers That Make All The Magic Happen!  < =
Types Of Products Offered By Green Compass
Green Compass does have a number of products available which do include the brick and mortar tinctures (extracts) and topicals.  Just recently they have expanded to more skin care options.  Check out the Skin Care Section further below.
"Boost" Product Lines
Increase the effectiveness of you CBD product.  Now Green Compass have introduced Boost.  Product Include Boost Immune, Boost Pain ,Boost Sleep and now Boost Metabolism.
Oh and did I mention that they are Organic?
Want to try them all?  Guess What? You can.  Green Compass now has the Boost Bundle which includes Boost Sleep, Pain and Immune!

Click To Learn More
You may be one of those that may be seeking to utilize CBD to assist specifically with sleep.  Now you can purchase a Sleep Bundle that includes Boost Sleep, Calm Roll On and Bath Bombs.
CBD Extracts and Tinctures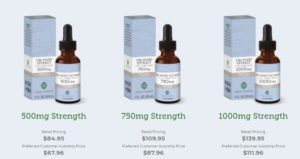 Green Compass offers CBD Tinctures (Extracts) in a few different flavors and concentrations.  They also offer both Full Spectrum and CBD Isolate (THC Free). The Extracts are created utilizing organically derived CBD from their USDA Organically Certified Farms.  The CBD is also extracted utilizing CO2 (Carbon Dioxide) extraction which is the optimal and cleanest extraction method.
Strength levels begin at 500 mg but up to 2500 mg is available depending on your specific needs.  Flavor varieties include, natural, mint, cinnamon and citrus. Sometimes all flavors may not always be available for each strength or product (Isolate or Full Spectrum).  You will have to check the site for availability.  
There are new editions to the tinctures product line.  Now Broad Spectrum CBD is available.  Broad Spectrum differs from a Full Spectrum where it contains other natural cannabinoids (along with CBD – cannabidiol) but without THC.  In short CBD Isolates contain only CBD (no THC), Full Spectrums contain other natural cannabinoids (including low levels of THC, which is 0.3% or less). Broad Spectrums can be a happy medium for those who would like to see the positive effects from other natural cannabinoids in additional to CBD but without the THC.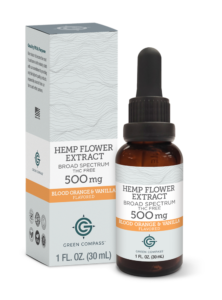 500 mg Broad Spectrum CBD (Blood Orange – Vanilla) View Product Details
There are several concentration levels and flavors available in Broad Spectrum. 
By Clicking Here – You can view Green Compass Products to see other flavors and strength levels – choose which is Right For You!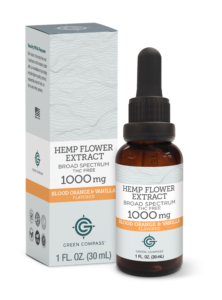 1000mg is also available in Broad Spectrum CBD – Learn More
Green Compass also recently introduced CBDA Isolate (Cannabidiolic Acid) to its product line (January 2022).  This product contains no THC and includes a number of helpful health and wellness benefits.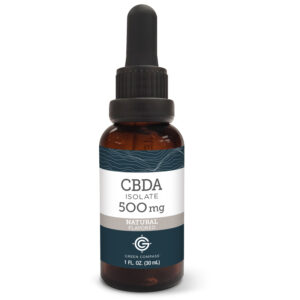 Green Compass 500mg CBDA Isolate – Learn More
CBD Topicals, Lotions and Creams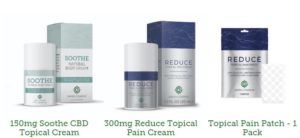 Green Compass also has topical creams and lotions.  They include topical soothing creams, pain relief creams, pain patches, hand and foot creams.  These all contain CBD from their USDA Certified Organic Farms.
Topical Soothing Creams:  These are general creams that also utilize CBD (150 mg) as one of the key ingredients.  The creams can help with general skin care as well as muscle and joint pain.
Reduce Pain Relief Creams:  These are formulated utilizing a proprietary blend of CBD (300 mg) and menthol (& other ingredients) to assist with pain relief associated with joint inflammation and physical activity.  This cream contains both higher levels of CBD and other active ingredients for greater pain relief vs the topical soothing creams.
Nano Jellies
These high quality organic edibles utilize a proprietary formula to improve the bioavailability of an edible CBD product.  In one of my previous posts I have shared some insight on how edibles can potentially lead to a lack of optimal absorption of CBD in the body.  However, Green Compass' formula improves the bioavailability of CBD in a water soluble state by 10X.  This can prove to be an excellent product for those who wish to use a more traditional method (oral) versus the sublingual tincture.
Remember this product is also USDA Certified Organic and they have been extremely popular since their rollout!
Click For Product Details
New Fall 2021 – Black Elderberry Nano Jellies – now including the delicious and antioxidant rich elderberry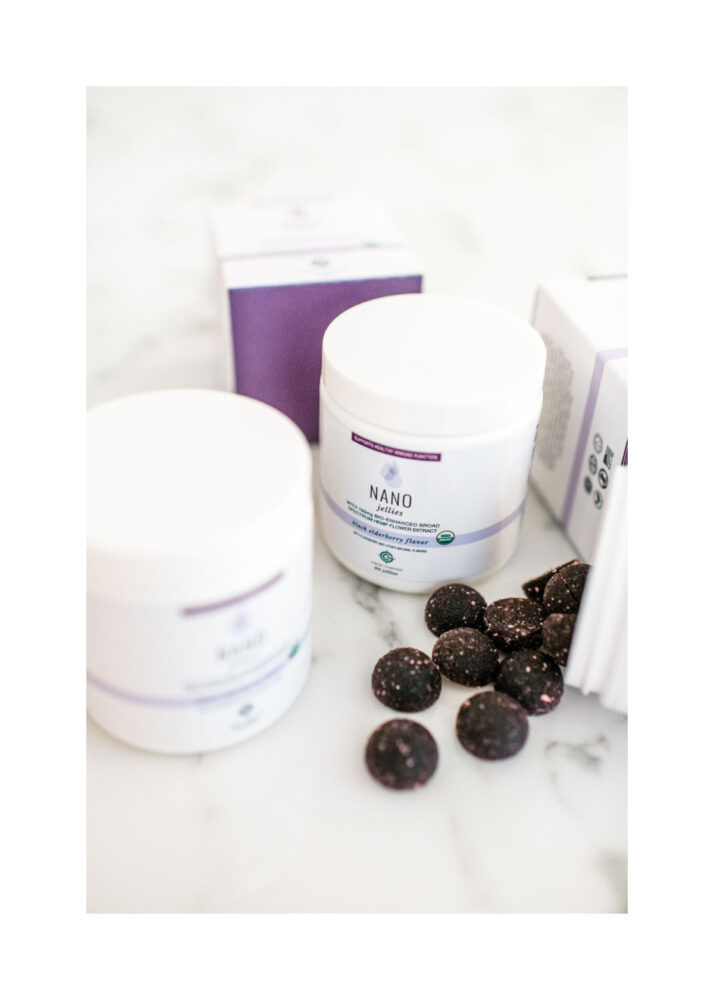 Black Elderberry Nano Jellies – Learn More
You can read more about it from my post on Green Compass Nano Jellies here.
Pet CBD Tinctures
Well we can't leave out our furry friends out from the relief of CBD.  Yes, CBD can be potentially beneficial for your dogs too. Currently there are two varieties available which include 250 mg and 500 mg.  There is a natural flavor but also a bacon flavor available. Now why isn't bacon flavor available for people?

= > Green Compass USDA Certified Organic CBD For Dogs In Two Flavors! - Learn More < =

Natural Flavor 250 mg (View Now)
Bacon Flavor 500 mg (View Now)
Skin Care Products
Green Compass also has a number of skin care products.  These high quality products will also utilize the organic CBD in skin care products.  The skincare market is a huge industry sector.  It would make sense for CBD skincare products to fit in with the current growing sector.  These items utilize the same quality CBD to develop products focused for skincare.   They include moisturizers, peptide cream and exfoliation pads.  Items can even be purchased in bundles.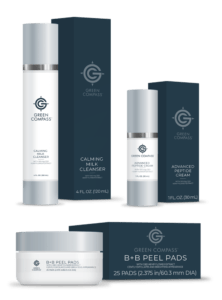 Green Compass Glow Bundle – B & B Pads, Peptide Cream, Milk Cleanser – View Now
Powerful Combinations Of Both Essential Oil and CBD Oil
Now there are products that can utilize the power of essential oil in conjunction with CBD oil.  Products Such as the Ice Blend infuse a powerful combination of essential oils and CBD to help sooth those joints and muscle aches.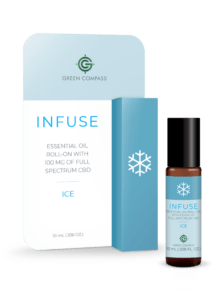 View Ice Blend Infuse Product Details
Hydrate And Energize Powders
Hydrate and Energize Powders are now here.  They are packed with high quality ingredients to help you naturally replenish your electrolytes and boost your energy.  These products make a perfect additional to you CBD routine.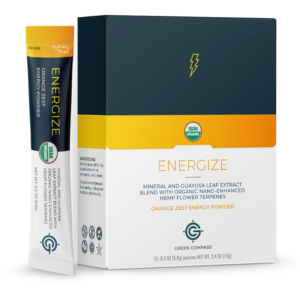 Orange Zest Energize Powder – Click To Learn More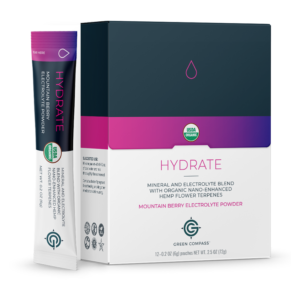 Hydrate Powder – Mountain Berry – Click To Learn More
Product Highlights:
100% USDA Certified Organic
Made with real fruit
Made with our proprietary Nano-Enhanced Hemp Flower Terpenes
Non-GMO
Gluten-free, dairy-free, and kosher
No added sugars, artificial colors, or flavors
Quality Control of Green Compass CBD Oil
Green Compass also always tests their products utilizing independent 3rd party lab testing.  Any high quality CBD manufacturer should always utilize independent 3rd party lab testing. If you want to see the test for the batch of your product specifically there is something really easy you can do.  Just scan the code on the bottom of your product to review the batch lab report. Pretty cool, right?
Got Questions? Don't Be Shy – Contact Me!  I'd Love To Help!
Pricing of Green Compass CBD Products
The pricing is fair and right in line with the industry. Green Compass does have preferred customer discounts that will save you an extra 20%!
There are products that may be cheaper but always be cautious of overly cheap products.  You ultimately get what you pay for. Buying Organic is going to cost more but its important in order to remove the possibility of outside toxins making it back to your CBD Products.
Using the CO2 extraction method (as Green Compass does) is more expensive but it drastically improves the quality of the CBD.  There are cheaper extraction options such as using petroleum based extraction methods and even cheaper imported hemp. These may lead to a cheaper product but less quality and effectiveness.  
You will always be the one responsible for deciding what is best for you.  However, the folks at Green Compass will simply not cut any corners to produce an inferior product.  That is important and for those who want the safest, and best quality CBD available either for yourself or loved ones, that is an absolute must.
Overall Review of Green Compass CBD Products
While writing this review its important that I be as unbiased as possible.  Full disclosure is that I have quite a bit of personal experience using the products regularly myself.  I liked it so much and became so interested in the mission and values of the Green Compass that I distribute the products myself.  However, there are Pros and Cons to everything.  So here are some to consider.
Pros of Green Compass Products
Green Compass Owns and operates its own farms and controls products completely from the seed to the seal on the product
Green Compass Hemp Farms are USDA Organically Certified
Strong Focus On Product Quality & Safety (all products are tested with independent labs)
Sold Online & Personalized Through Independent Distributors (I have this as a Pro & Con as it depends on your opinion)
100 % Legal In All US States 
Fully Compliant With All US Based Laws Utilizing Legal Experts In The Field
Cons of Green Compass Products
Product Lines Not As Broad As Others
Sold Online & Personalized Through Independent Distributors (I have this as a Pro & Con as it depends on your opinion)
Not The Cheapest (I wouldn't purchase a cheap CBD oil but that is your call)
Products Currently Available In US Only
An additional note on the product lines.  Its true that they have expanded and will continue to expand on products, however no products will be listed unless they are fully compliant.  Some other CBD companies may push the threshold on trendy and gimmicky products (I am skeptical of those and you won't really find them here).
Additionally, there are no edible products sold.  There are still some legal grey areas with CBD edibles of food products.  Additionally, there are some Pros and Cons to CBD food and edibles.
Read More:  The Pros & Cons Of CBD Edibles.
The Use Of Independent Distributors For Green Compass
Green Compass clearly differentiates itself from other companies since they own their own farms and control the product from the hemp on the farm to the final seal on product.  Many other companies may buy their hemp from the same farms.
Some may be exactly identical and just relable the packaging.  However, Green Compass differentiates itself by controlling that process.  Also, its not sold through traditional retailers but through independent distributors.  
The advantage is that it helps to keep quality control of the product but also gives consumers access to a knowledgeable personal consultant (relationships matter).  Although you have that personal relationship available to you the products can be easily purchased online. So it's the best of the both worlds.
DO YOU HAVE A QUESTION?  CONTACT ME!  I'D LOVE TO HELP!   WHAT ARE YOU WAITING FOR? 🙂
I listed this as a possible negative as some of you may be more interested in a traditional transaction such as walking into a brick and mortar retailer and buying it onsite. It's really a matter of preference there.
The Reason Why I Use It Personally
So here I can be completely biased (but it is a question on why I decided to use it).  I am an avid researcher. Ok let me toot my own horn here. I am a pretty darn good one.  I research all kinds of things and I love to be able to share that knowledge to help others not only myself.
As it came to CBD, I saw some potential there.  I just needed to do some digging. I learned a lot and post and continue to post helpful information on this site.  When I was able to identify what was important in a CBD product I wanted to find something that would fit those parameters and of course would be effective.
Green Compass did it for me and I was really sold on the mission of the organization.  It's not just a product, but what is behind it. Helping people. The products are created with quality and safety every step of the way.  
I am so passionate about the subject matter and the product and mission that I became a distributor myself (also known an independent advocate).  It is always about helping others. I have to feel good before I put my name behind anything and no doubt Green Compass has done it.
What Products Do I Primarily Use
I typically use the tinctures.  I have the 1000 mg Full Spectrum (mint flavor) that has really worked well for us.  I also have the soothing cream (which actually goes long way I might add) that we use.  My 4 year old son seems to be obsessed with it. 
I will say that it has helped out on a lot of rashes, scrapes, irritations, insect bites etc. He always asks for it when something is bothering him and won't allow me to use some of our other balms (even the other good ones).
Does Green Compass Have Business Opportunities For Those Who Are Interested?
Yes they do.  This will be a post for another day.  The purpose of this post is for the products and company (Green Compass). 
You can just buy them and use them. They are great. However, some may be interested in something more.
You can become involved and start to build a business for yourself. 
I will even help you.
However, the most crucial thing I will tell you is make sure your heart is in the right place.  Ultimately, we are put on this earth to be in service to others. You can absolutely make a difference in the life of someone else.  You can create something that can change the life of someone else and go to bed knowing that you were a part of something bigger than yourself.
When you do things to help others and are truly doing what is in their best interest with the utmost integrity then it will come back to you ten fold.  CBD isn't going away anytime soon, it's only beginning.
If this sounds like you then contact me and I can send you some Free Opportunity Guides and walk you through a few things.   Starting a business can be a great endeavor that may help generate some extra income and bring excitement and personal fulfillment. 
However, it may not be for everyone.  Many are happy just being customers – the products are great.  I'd love to have you as a customer.
Otherwise look for a post specially on this topic in the future.
I hope you found this helpful.
Stay empowered and informed.