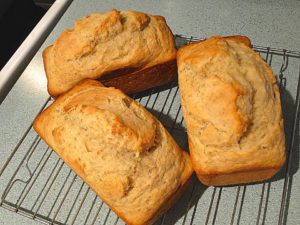 Here is a great Banana Nut Bread recipe I just had to share.
Truth be told I am not a vegan, not lactose intolerant (though I don't really drink dairy, not that it matters).  Nonetheless, as a foodie I have an appreciation for anything that is pleasing to the palate.
So regardless if you are vegan or not, this one will please the masses.
This came from one of the parents of my son's preschool.  All the children participated in preparing the bread for the rest of their peers.  After we tried it we had to make it at home.  We introduced it to our family and now I am sharing it with you.
Although I did not include it below, there were some slight alterations that we made during the numerous times we made the bread.  Those included adding some chocolate chips.  I generally prefer dark vs milk or semi sweet chocolate.  Everyone's palate is slightly different so have fun with it.
Enjoy!

Vegan Banana Nut Bread
Ingredients:
3/4 cup sugar
1 1/2 cups mashed ripe bananas (3 medium slightly brown)
1/2 cup organic refined coconut oil, melted
1 teaspoon vanilla
1/4 cup unsweetened vanilla almond milk
1 teaspoon apple cider vinegar
2 cups all-purpose flour
3/4 teaspoon baking soda
1/2 teaspoon salt
1/2 cup chopped walnuts
2 Tablespoons Milled Flax Seeds
Dash of cinnamon
Steps
1.Heat oven to 350° F. Grease 9 x 5 x 3-inch loaf pan with coconut oil.
2. In large bowl, beat sugar, bananas, coconut oil and vanilla until smooth. Stir in almond milk and vinegar. Add flour, baking soda and salt; stir just until moistened. Stir in walnuts. Pour into pan.
3. Bake 1 hour or until toothpick inserted in center comes out clean and crack in top of loaf appears dry. Cool 10 minutes. Loosen sides of loaf from pan; remove from pan, and place on cooling rack. Cool completely, about 1 hour, before slicing. Wrap cooled bread in plastic wrap, and store in refrigerator.