[ABTM id=588]
Pain relief is one of the top benefits of CBD Oil.  According to the CDC about 20% of the US adult population (50 million) suffer from pain.  CBD has become a potential solution for those seeking relief without medications.
Many prescriptions and over the counter medications can come with many adverse side effects.  The common medications that you may you think are safe may actually be more dangerous then you have been led to believe.
Read More:  Some Common Household Pain Medications Are More Dangerous Than You Think
Now come 2020 CBD oil has peaked the interest of many patients, caregivers and physicians. 
However, how do you use CBD Oil for pain?  
What is the best way to take it?  
Are there guidelines to taking CBD oil?
If you have found yourself with these questions then this post is for you.  Let's begin with a little background info on CBD and how CBD oil can assist with pain.
Where Does CBD Come From?
CBD oil (cannabidiol) is one of the many cannabinoids found in the cannabis plant.  It is non-psychoactive which means that it does not cause an intoxicating high. Do not confuse CBD with THC which is the psychoactive substance that does cause an intoxicating high.
Purchasing CBD will most likely be hemp derived.  Do not confuse Hemp with Marijuana. Although there are both in the cannabis family they have some differences.
Marijuana which is primarily used as a recreational drug has high levels of THC.  This is why it is traditionally used as a recreational drug. Hemp on the other hand has very high levels of CBD but scarce levels of THC.
This is why it has no use as a recreational drug.  In addition to being very useful for CBD oil production Hemp can be used to produce clothes, ropes & cordage and its seeds can be a very nutritious food product.
How Does CBD Oil Help To Relieve Pain?
Here is what is fascinating about CBD oil.  It integrates with your body's natural systems to help control or maintain a variety of different functions.
You surely know about your muscular, cardiovascular, nervous system etc.  You may have heard about your endocrine system or lymphatic system (this may be lesser known).  However, if you are new to CBD you may have not heard or (if just heard) of the Endocannabinoid System.
Your endocannabinoid system (ECS) is composed of your central nervous system and peripheral organs and control a variety of different body functions which include, inflammation & pain, immune response, sleep, digestion, well being just to name a few.
If your endocannabinoid system is out of balance a variety of different symptoms could occur.  Specifically in this post we are addressing pain. Inflammation often leads to pain and deficiencies within the endocannabinoid system can lead to pain for patients.
There are receptors within your ECS (connecting your central nervous system with your peripheral organs).  Natural cannabinoids (yes your body has natural cannabinoids) are the substances that bind to the receptors in your body. They basically allow them to communicate.
The CBD oil integrates with your ECS when there are deficiencies and help to bring it back to homeostasis (balance).  Once this balance is achieved then symptoms such as pain & inflammation can be managed.
This is the science (the simple version) behind how CBD functions to help relieve pain.
How To Use CBD Oil For Pain
Here is the big question.  Now we have an understanding of how CBD works, how do we move forward to use it.  One important thing to remember is to always consult with your physician. This is especially important when taking existing medications and making any changes.
Read More:  Will CBD Oil Interact With Other Medications?  Here are the details released by the Arthritis Foundation.
Secondly, take the time to choose a high quality CBD oil product.  Not all products are created equal. Select products from reputable companies.  Make sure that the products utilize Hemp that is sourced organically from US based farms.
This will help you to get the top quality CBD available and also avoid any potential toxins from finding its way into your CBD product.
Choosing A CBD Product & Dosing
You will see many types of products on the market.  There are edibles (CBD gummies and candies seem to be popular) and CBD Tinctures/Extracts.  CBD Tinctures and Extracts seem to be used interchangeably and are used sublingually. The post below to give you more details on understanding them when you are making a purchasing decision.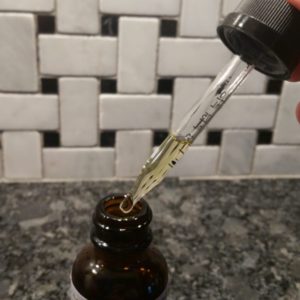 Read More:  What Is The Difference Between CBD Oil, CBD Tinctures & CBD Extracts?
When beginning with CBD you will need to help establish your sweet spot with dosing.  This may take a little time. You will need to document a few things so keep a notebook handy for notes.  Below are some easy to follow guidelines.
Select A CBD Product – A high quality CBD (Extract/Tincture) is best since it provides the best way to absorb CBD.  Look for MCT oil as the carrier oil.  Some may contain hemp oil as carrier oil but MCT is the optimal carrier oil. 
---
---
Select A Strength Level (concentration of CBD) –  Most people will select a lower concentration level such as a 500mg vs 1000 mg.  You can still do a high concentration level but just bare in mind the calculations that you will need to do moving forward.  Most may find it easier with the lower levels until they establish their dosing levels.
Ex. a 500mg (30ml) bottle will have about 16 mg of CBD for a full dropper.
Here is the math 500/30 = 16.66mg.  Since each dropper holds 1 ml then you will have about 16 mg of CBD per dropper.  If you do half a dropper then 16/2 = 8mg
REMINDER:  You will also see different types of CBD such as full spectrum or isolate (THC Free).  A full spectrum will contain trace levels of THC whereas a isolate (THC Free) will contain only CBD.  Read the below posts to see which may be right for you.
Read More: What Is A Full Spectrum CBD Oil?
Read More:  What Is A CBD Isolate?  Is It Right For You?
---
Get A Notebook So You Write Down Your Notes – This is be very important and makes this process easier for you.   
---
Begin Your CBD Regiment Low and Slow – Start with half or quarter size droppers under your tongue 1 – 2 times a day.  Make sure to put the liquid under your tongue and hold for 60 – 90 seconds before swallowing. Then gradually increase those amounts every 2 days or so. 
Reminder:  SHAKE THE BOTTLE BEFORE USING!
Keep Notes Of The Dosage And Any Changes On Your Pain Level:  As you increase the dosage keep accurate notes on your dosage and how you feel.  Perhaps you may want to use a numerical scale of pain and write notes.  This is for you so document so you can keep track.
---
Be Patient! – You need to realize that things may not change overnight.  Your body chemistry is different than others.  Some may see results sooner, others may need a little more time.  It could be a few days or weeks.
---
Reflect Back To You Notes Over Time – Once you have established the level that works for your pain, reflect back on your notes.  The dosing level in which you were able to achieve that relief will be your individual sweet spot.
Remember that everyone is different and your dosing may be different than others.
---
Most of the time when people do not see results they have either selected a poor quality CBD oil or just did not give proper time.
Read More:  How Do I Know My CBD Oil Is Working?  What Should I Do?
Once your individual dosing has been established you now know the proper amounts needed in order to relieve your pain symptoms.  
Always keep your notes handy to reflect back.  As mentioned earlier most may start with a lower concentration level.  When you have established a dosing level that works for you then you may find that buying a higher strength tincture may be more economical.  If that is the case just reflect back to your notes to know how much of a dropper to use.
As an example if you started off with a 500mg and moved up to a 1000mg you know that a dropper has twice the amount of CBD.  Just do the simple math to know how much to take according to your notes.
It's that simple.
Additionally if you are following back up with your medical provider you will have the notes to document your progress which will help during your visit.
Empower yourself with information!
I hope you found this helpful.  Questions? Comments?  
Leave a comment below or contact me.